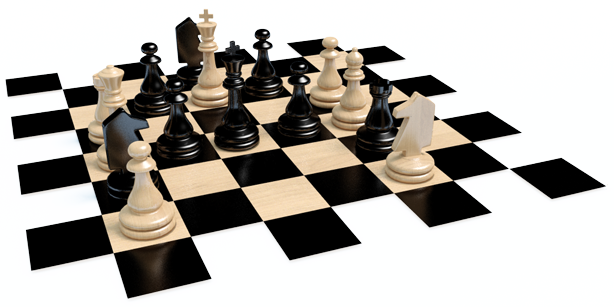 Este es el sitio de la Unión Argentina de Problemistas de Ajedrez.
El Ajedrez, date a millionaire disciplina polivalente y resistente a definiciones simples, exhibe también una naturaleza artística. Hablar de arte es hablar de "creación" y compartimos el pensamiento de que "De todos los misterios del universo, ninguno más profundo que el de la creación. Nuestro espíritu humano es capaz de comprender cualquier desarrollo o transformación de la materia, pero cada vez que surge algo que antes no había existido – cuando nace un niño o, de la noche a la mañana, jewish dating websites germina una plantita entre grumos de tierra – nos vence la sensación de que ha acontecido algo sobrenatural, de que ha estado obrando una fuerza sobrehumana, divina. A veces nos es dado asistir a ese milagro, y nos es dado en una esfera sola: en la del arte." STEFAN ZWEIG (Viena, 1881 – Petrópolis 1942).
Por ello, la composición ajedrecística sólo cobra sentido cuando se ponen en juego todas las fuerzas que la mente humana invierte en el proceso creativo: asombro, ruptura de lo paradigmático, apertura hacia lo impensable, hacia lo enigmático y un extraño interjuego entre lo racional y lo mágico.
Pero el arte es, asimismo, un acto de comunicación: hay un receptor de la obra que la acepta y que asume la propuesta de involucrarse en su influjo, en su mensaje. hot ukraine girl Y allí es cuando aparece el "solucionista", destinatario de esa alquimia y descifrador  de ese chispazo de belleza, que siempre es un mensaje, un hecho compartido.
Nuestro sitio es un espacio que pretende exponer y homenajear a la obra ya creada, para disfrute de todos, interracial dating sites y colaborar en el estímulo hacia quienes han avizorado en esta especialidad una manera de compartir lo asombroso.
A compositores y a solucionistas, les decimos:
¡Bienvenidos!
===================================================================
NEW AWARD PROVISIONAL  8th Tourney UAPA 2019 PDF    – Look in ARVES

NEW Award Final 7th Tournament UAPA-2018–  PGN –   Look in ARVES

NEW  Problemas,Cuentos e Historias de Marcelo Reides
A) ANTECEDENTES-FOTOS: COMPOSITORES ,SOLUCIONISTAS Y ADHERENTES
B) COMPOSICIONES CLASIFICADAS POR CATEGORIAS-
C) ANUNCIOS  DE   TORNEOS –   FORMALES – INFORMALES 

E)  PUBLICACIONES   DE  LA   U.A.P.A.
F)  PUBLICACIONES ARGENTINAS A TRAVES DE INTERNET
G) REVISTA ATAHUALPA  Nº1 pdf  Nº 2 pdf – Nº 3 pdf –   Cartilla de Ajedrez Escuela de Ajedrez
H) Campeonato Mundial Individual de Composiciones    (WCCI) 2016-18- Look  here (Ver)
CONTACTO: Coordinador de Torneos. Sebastian Palomo :alesebas_1@hotmail.com
======================================================= ============
10th INTERNATIONAL INTERNET TOURNAMENT (UAPA) – 2019
Section  A-  Miniatures (6 to 7 pieces)
A.1. Studies Win  – A.2. Studies Draw – Judge: Peter S. Krug (Austria)
Section B: Theme: Free                                                                                                                   B.1. Studies Win   –  Judge: Geir Sune Tallaksen Ostmoe (Norway)
B.2. Studies Draw- Judge: Jarl Henning Ulrichsen (Norway)

Entries : not more than three per composer (in each section) – Send studies to:: Sebastian Palomo torneo@problemistasajedrez.com.ar– or  Mario García marioggarcia@gmail.com –   All selected original studies will be posted periodically on the UAPA website: http://www.problemistasajedrez.com.ar/– –  Prizes, honourable,  mentions, commendations and special nominations will be awarded.- The provisional award will be issued in march 2020, will be available in the same website and will be sent to all participants by e-mail.– Closing date 31.12.2019
ESTUDIOS PRESENTADOS –  (STUDIES PRESENTED)
Sec. A.1 : 1 – 2 –  3 – 4 – 5 – 6 – 7 – 8 – 9 –

Sec. A.2 : 1 – 2 –  3 – 4 – 5 – 6 – 7 – 8 – 9 –

Sec.B.1 :  1 – 2 – 3 – 4 –  5 – 6 – 7 – 8 – 9 –

Sec.B.2 :  1 – 2 – 3 – 4 –  5 – 6 – 7 – 8 – 9 – 10 –

TODOS LOS ESTUDIOS – (All the studies)
 ========================================================== 
"MEMORIAL TOURNEY TOMAS  SALAMANCA–2020'
The Union Argentina de Problemistas de Ajedrez is pleased to announce a formal international chess problem composing Tourney in memory of the composer Tomas Salamanca
#2- Theme: There is a white battery. A defense must show a mate by the battery and another defense must show the self-pin of a black piece when captures the front piece of the battery.   Judge:  Jorge M. Kapros  – Examples of the theme click in:   A   –    B

 #3 and  #N – ( in two sections a) #4 to #6 ; b) #7 to more)- Theme Free –  Judge: Mario García

Send the problems to the Coordinator of the tournaments:  Felipe Guanca –Email:<torneo@problemistasajedrez.com.ar> –Prizes , honourable mentions , commendations and special nominations, will be awarded. The preliminary and final awards of the tourney will be sent to participants by e-mail and will be published on the websites– Unión Argentina de Problemistas de Ajedrez (UAPA) http://www.problemistasajedrez.com.ar/   Closing date:  Frebruary 1st,   2020- Problemas de T. Salamanca PDF
==========================================================
 PAL BENKO (1928- 2019) –  PROBLEMAS :  One for the old and one for the new year

Helpmates in 6 .(5  1/2) – White move
2 twin solutions with e.p. and  castle .
Stipulation: Construct two games from basic position where the move 6 of White is mate, each game has an e.p and a castle, and where the white pieces that take part in both mates are reflection echoed in the board

The 2 basic rules :
1.)The duals they are not acceptable .
2.) The activ White pieces should have roles  in the the final mate 
Solution; Click in the Foto
—————————————————-
9th INTERNATIONAL INTERNET TOURNAMENT (UAPA)  
                                  "MEMORIAL TOURNAMENT   EDUARDO  M.  IRIARTE"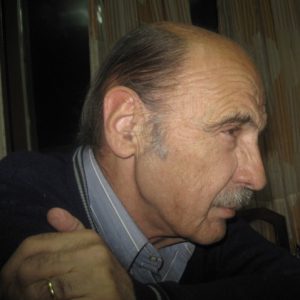 Section  A- Thematic Domination : White: (B or N) vs  Black :Rook  – In this  section, the initial position may present additional pieces-  Stipulation: Win
Section B: Theme  Free                                              B.1. Studies Win 
B.2. Studies Draw 
Judges: Emil Vlasak & Jaroslav Polasek

 –Entries : not more than three per composer (in each section) – Send to the tourney director: MarioG.García –marioggarcia@gmail.com – All selected original studies will be posted periodically on the UAPA website: http://www.problemistasajedrez.com.ar/–  –    Prizes, honourable,  mentions, commendations and special nominations will be awarded.- The provisional award will be issued in november 2019, will be available in the same website and will be sent to all participants by e-mail.– Closing date 30.8.2019 – Look in page E.Iriarte in ARVES and Site UAPA

ESTUDIOS PRESENTADOS –  (STUDIES PRESENTED)
Sec. A  :   1 –  2 –  3 –  4 –  5 –  6 –  7 –  8  – 9 – 10 – 11 – 12 – 13 – 14 – 15 –

Sec. B.1.:  1 –  2 – 3 –  4 –  5 –  6  – 7 – 8 –  9 – 10 – 11 –  12 –  13 – 14 – 15 – 16 – 17 –  18 –  19 – 20  – 21 –  22 –  23 –  24 –  25 –  26 – 27 –  28 – 29 – 30 – 31 –

Sec.B.2. :  1  – 2 – 3 –  4  –  5 – 6 – 7 –  8  –  9 – 10 – 11 – 12 –  13 –  14 – 15 – 16 – 17 –  18 –  19 – 20 – 21  – 22 – 23 – 24  – 25 – 26 –

 TODOS LOS ESTUDIOS – (All the studies) 
—————————————————-
CARLOS LAGO  (Primero a la izquierda con Horacio Amil Meylan y Jorge M. Kapros)

OBITUARIO- Ver PDF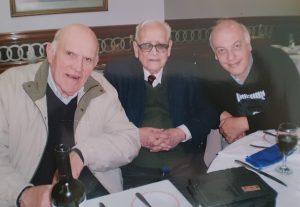 —————————————————-
 Fabricantes de problemas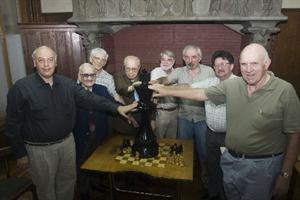 Hace más de 40 años, en una confitería de Corrientes y Esmeralda, un grupo de aficionados creó la PEÑA DEL MATE CON AYUDA, que se dedica a la creación de acertijos sobre el tablero; son todos argentinos y ganaron varios títulos internacionales; se trata de un caso único en el mundo
Cada sábado, entre las 17 y las 21, Jorge Kapros, Amil Meylán, Horacio Benoit, Oscar Carlsson, Sergio Orce, Roberto Osorio, Jorge Lois,  Carlos Lago , Oscar Cuasnicu se reúnen en la peña Del Mate con Ayuda (Año:2008)
===================================================================
8th INTERNATIONAL INTERNET TOURNAMENT (UAPA) -2018-19                                                                                  "MT95  ALBERTO  FOGUELMAN"

Section  A- Thematic:Queen and a minor piece (B or N) vs Queen – In this  section, the initial position may present additional pieces-  Stipulation: Win-    Judge: Valery Kalashnikov (Russia)   If the number of entries is significant, two subsections can be established:  A.1 ) QB vs Q and A.2) QN vs Q                                                                           
Section B:Theme: Free – B.1.Studies Win – B.2.Studies Draw  Judge: Marco Campioli (Italy)
Entries : not more than three per composer (in each section: A., B.1., B.2.) – Send to the tourney director: Mario G.García –marioggarcia@gmail.com –  All selected original studies will be posted periodically on the UAPA website: http://www.problemistasajedrez.com.ar/–                                                                                                                                                                                       Prizes, honourable,  mentions, commendations and special nominations will be awarded.- The provisional award will be issued in July  2019, will be available in the same website and will be sent to all participants by e-mail.– Closing date 30.4.2019–Look page A.Foguelman in ARVES and UAPA

ESTUDIOS PRESENTADOS –  (STUDIES PRESENTED)
Sec. A.1.  :   1  –  2  – 3  – 4  –  5  –  6 – 7  –  8 – 9 –

Sec. A.2. :  1 –   2  –   3  –  4  –  5  –  6  – 7  – 8 –  9 – 10 –

Sec. B.1. :  1  –  2  – 3   –  4 –  5   – 6 – 7 – 8 –  9 – 10 – 11 – 12 – 13 – 14 – 15 – 16  – 17 – 18 – 19  – 20 –  21  – 22 – 23 – 24 – 25 – 26 – 27 – 28  – 29 – 30 – 31 – 32  – 33 – 34 – 35 – 36  – 37 – 38 – 39 –

Sec. B.2. :  1  –  2  –   3  –  4 –  5  – 6 – 7 –  8 –  9 – 10 – 11 – 12 – 13 – 14  – 15  – 16  – 17 – 18  – 19 – 20 – 21 – 22 – 23 – 24 – 25 – 26 – 27 – 28 – 29

 TODOS LOS ESTUDIOS – (All the studies)   
AWARD PROVISIONAL  8th Tourney UAPA 2019 PDF         Look in ARVES                    
 PROBLEMAS Y ESTUDIOS  DE COMPOSITORES ARGENTINOS PREMIADOS, DISTINGUIDOS Y ELOGIADOS : CONCURSOS 2010 -2019
Jorge Kapros – Jorge Lois – Daniel Perone – Walter Díaz – Gaspar Perrone – Carlos Grassano – Sebastian Palomo – Lucho Alfi – Mario G. García   – Roberto Osorio    – Eduardo Iriarte –  Julian Villca – Juan Cruz Arias –  Carlos Lago –   Horacio Amil Meylan – Marcelo Reides  –