STUDY COMPOSITION  TOURNEY  JAN TIMMAN -70"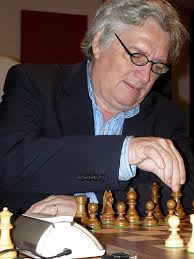 To honour the 70th birthday of Jan Timman, chess legend and prolific study composer, the Royal Dutch Chess Federation (KNSB) announces an endgame study composition tourney (free theme). Judge: Jan Timman –  Director: Harold van der Heijden
Organisational Support: Jan Sprenger
Prizes: 150/125/100/75/50 € (sponsored by KNSB)
Special prizes, offered by friends and colleagues of Jan Timman:
• Hans Böhm: 15 chess king statues, made by the Dutch artist Margaret Wevers  (www.schaakkunst.nl);
• Harold van der Heijden: two HHdbVI study databases (www.hhdbvi.nl);
• Jan Sprenger: 100 € for the best study by a strong practical player (criteria: 2000+ rating, not more than ten entries in HHdbVI)                                                        • KNSB: chess books by Jan Timman
Timeline: • Deadline for submissions: 1 October 2021 –• Preliminary award: 14 December 2021 (70th birthday JT) –• Deadline for claims: 14 January 2022 –• Final award: 31 January 2022
Coproductions are allowed. There is a maximum of three studies per composer. Double money  prizes will not be awarded; instead, the composer will receive the more valuable prize.
Submissions should be sent in pgn format to the tourney director Harold van der Heijden (heijdenharold@gmail.com), with "Jan Timman 70" in the subject line. –The results of the tourney will be published on the website of the KNSB and in the endgame study  magazine EG
==================================================
Chess Artistry Competition International formal tourney in memory of Pal Benko The organiser of the event: Judit Polgar Chess Foundation
The judge : John Nunn Patronage of the event: Judit Polgar and Vladimir Kramnik The Chess Artistry Competition aims to celebrate the artistic side of chess. Endgame studies embody many of the most beautiful elements of chess and composers put an enormous effort into compositions which delight thousands of enthusiasts around the world. Criteria for submitted compositions: Preference will be given to studies which are likely to appeal to over-the-board players. Natural initial positions and clear-cut analysis are preferred. Each author can send one study or two joint-compositions.
Prize: There will be trophies for the top three winners and special prizes for particular categories, such as young (under-25) composers. As usual, the award will consist of prizes, honourable mentions and commendations. The participants will also receive a memento representing this Chess Artistry event. Please send your original work ( in PGN format by the 31st of July 2021 to the tourney directors: Peter Gyarmati: slowpane@gmail.com (anticipation checking by Harold van der Heijden) and please note if you are under-25! The compositions of the winners and special prizes will be published during Judit Polgar's Global Chess Festival on 9th October 2021 and you can follow the publication on the website of the Judit Polgar Chess Foundation. The award will be published at first on the official website of the Global Chess Festival and its partner online pages, and after that in the Magyar Sakkvilág.
The studies in the award also be used for publicity purposes by the Judit Polgar Chess Foundation, including social media. We wish good luck and creativity to all participating composers. Judit Polgar
==================================================================
POLASEK and VLASAK  64 JT
C 2021-05-22
The Czech Chess Association and the Československý šach magazine announce an international EG study tournament.
Judges: Jaroslav Polášek and Emil Vlasák celebrating his 64th birthday.
Free theme, the judges are ready to grant special awards for development of themes and ideas.
Send originals (max 3 pieces per composer) till May 22th 2021 to the tournament director Emil Vlasák emil@vlasak.biz with CC to jaroslav.polasek@brouzdej.net.
Prize fund at least 10 000 Kč (about 400 EUR). -You can find current info, list of incoming entries, comments and award on web page www.vlasak.biz/pv64.php -Because of FIDE Album we guarantee Award in the year 2021. The Award will be published in Československý šach magazine, too.
==================================================================
MT 150  HENRI  RINCK
The Sociedad Española de Problemistas de Ajedrez (SEPA) organizes a Memorial
Tourney for endgame studies to celebrate the 150th anniversary of the birth of the
renowned composer Henri Rinck.
Judges: Luis Miguel González and Pedro Cañizares
Two sections:
A) Free theme
B) After H. Rinck (please indicate the reference position) – Example: Look here–> H Rinck 150 MT-Announcement

Joint compositions are allowed but only a maximum of 3 studies per composer in each section. -Submission deadline: 31.12.2020
Prizes, honourable mentions and commendations will be awarded in each section. -The preliminary award of the tourney will be sent to participants by e-mail and will be published in the magazine Problemas (2021).
Send your original endgame studies (preferably in PGN format although PDF and DOC -also are admitted) to the Tourney Director: Luis Gómez, e-mail: gomezpalazon@gmail.com –with the subject H. Rinck 150 MT.
==================================================================
HAROLD VAN DER HEIJDEN
has released a new version (HHdbVI) of his Endgame study database !!
It contains now 93839 endgame studies !!!
(On his website you also can find this leaflet, which you can open here as well, with detailed
==================================================================
3rd Tourney Themaic  FRME, 2021
The Royal Moroccan Chess Federation (FRME) organizes the 3rd TT FREM, in 7  sections:
A) Twomovers (#2) Judge:

Juraj Brabec

(Slovakia) – Send to tournament director: Twomovers (#2) to

Mustapha Bakani

(Marocco) E-mail:

bakanim@gmail.com

B) Threemovers (#3)- Judge:

C.G.S. Narayanan

(India)
C) Moremovers (#4-6)- Judge:

Henk le Grand

(Netherlands)
D) Endgame studies Theme: Two rooks and one minor piece against Queen. In the initial position, may presented be additional pieces. Is possible other configurations, changing the colors of the Queen and rooks and the minor piece. Slogan: Win or Draw. Judge:

Mario Guido García

(Argentina)
E) Selfmates (S#3-7) Judge:

Gennady Kozyura

(Ukraine)
Send to tournament director: Threemovers (#3), Moremovers (#4-6), Endgame studies and Selfmates (S#3-7) to Vidadi Zamanov (Azerbaijan) E-mail: vidadi_zamanov@mail.ru
F) Helpmates (H#2) theme: h#2. – Judge:

Fadil Abdurahmanović

(Bosnia & Herzegovina) and

Marko Klasinc

(Slovenia)
G) Helpmates (H#3) Judge:

Aleksey Ivunin

(Russia)
Send to tournament director: H#2 and H#3 to Jamal M Elbaz (Morocco) E-mail: jamalelbaz11@gmail.com
Closing date: 30. 08. 2021. The award – 2021 All received problems will be presented to the judges in anonymous form. Award will be published on the website: http://frme.fr.nf  -Thematics ot he sections and examples  – LOOK HERE
==================================================================
Andrew Kalotay 80th Jubilee Theme Tourney
There are required Helpmates in 3 or more moves with a special theme. See Announcement for details from

https://magyarsakkszerzok.hu
Remarks in addition to the announcement:
– The examples in the announcement are indeed based on captures of white pawns only, but it is not forbidden to use any other white pieces (S, B, R, Q) instead of a pawn to be captured in the first move.
– H#3.5, H#4.5 or more .5 moves problems are welcome on the competition. By implication, for this type of problem, the first move in black is move 2.
– Twins are not prohibited by the announcement.
– The black piece that captures a white piece in the first move can leave this square during the solution if it goes back there so white can capture it in the last move.
The submission deadline is

31 July 2021.
Andrew Kalotay has played several times at the Canadian Chess Championships and was a member of the 1966 Olympic Team in Havana. He composes mainly helpmate-type chess problems.  
==================================================================
TOURNAMENTS  OF THE GEORGIAN CHESS FEDERATION
Georgian Chess Federation announces an international tournament in chess study composition – In Memory of Generation.
The tournament is dedicated to five of the most distinguished representatives of the Georgian chess study tradition – International Grandmasters in Chess Composition Gia Nadareishvili (1921-1991) and Iosif Krikheli (1931-1988) and International Masters Velimir Kalandadze (1935-2017), Vazha Neidze (1937-2020) and Iuri Akobia (1937-2014).
The tournament consists of five themes dedicated to each.
1) Gia Nadareishvili – Fight against black Queen
2) Iosif Krikheli – Studies with thematic false attempt
3) Velimir Kalandadze – Rook endgame studies
4) Vazha Neidze – Stalemate studies
5) Iuri Akobia – Checkmate studies
Three winners in each of the tournaments will be awarded with medals, diplomas and books by and about respective composers. All tournaments will be judged by International Grandmaster in Chess Composition and International Arbiter David Gurgenidze.
The deadline for study submission is 1 February, 2021. Please submit studies by email to gurgenidze53@mail.ru- The awards of the competition will be published on the website ChessStar.com.
==================================================================
 7 th Composing Tourney of FRME, 2021
The Royal Moroccan Chess Federation (FRME) organizes the 7 th Composing Tourney in four 8 sections:
Twomovers (#2) Judge: Aleksandr Derevchuk (Ukraine)
Send to tournament director: Mustapha Bakani (Marocco) E-mail: bakanim@gmail.com
Threemovers (#3) Judge: Sergey Bilyk (Russia)
Moremovers (#N) Judge: Hans Gruber (Germany)
Studies (+;=) Judge: Geir Sune Tallaksen Østmoe (Norway)
Selfmates (S#) Judge: Mike Prcic(USA)
Send to tournament director: Vidadi Zamanov (Azerbaijan) E-mail: vidadi.zamanov@gmail.com
Helpmates H#2 Judge: Viktor Zaitsev (Belarus)
Helpmates H#2.5-3 Judge: Christopher Jones (Great Britain)
Helpmates H#3.5-N Judge: Marcos Roland (Brazil)
Send to tournament director: Jamal M Elbaz (Morocco) E-mail: jamalelbaz4@gmail.com
Prizes, honourable mentions and commendations will be awarded. Send problems and studies in format PDF.Closing date: 30. 09. 2021. The award – 2021
All received problems will be presented to the judge in anonymous form.
Award will be published on the website: frme.fr.nf
==================================================================